Search real estate
Menu
Villa: Otok Krk, Stara Baška, 154,00 m2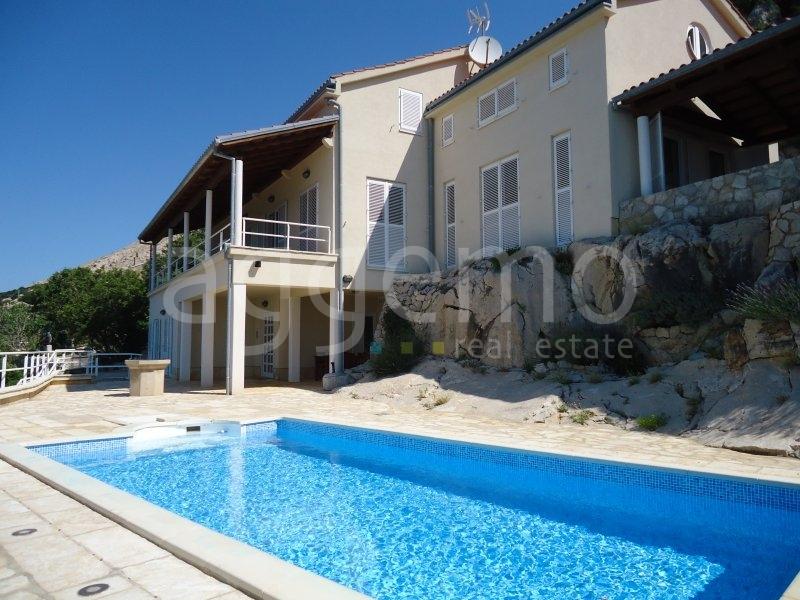 Real estate ID: 211206
Location: Stara Baška
Area: 154,00 m2
Price: 1.100.000,00 €
The island of Krk, Stara Baška, beautiful luxury villa near the beach
It was built for personal use and that is why only top equipment and materials were used for its construction and furnishing. It consists of a ground floor where there is one bedroom, living room, kitchen with dining area, two bathrooms, wardrobe and storage. In front of it there is a covered part of the terrace with a table and a large sun deck and pool.
On the first floor there is a large and elegant living room with a fireplace, a large covered balcony, bedroom, bathroom (with its own smaller terrace), kitchen with dining area, storage room and another smaller toilet The area of the 1st floor is 154 m2 plus a covered terrace of 50m2 on which there is a stone sink, bread oven and grill and everything is lined with hewn stone. In the tall attic there are two smaller guest apartments. The house is equipped with video surveillance, solar heating and heat pump for heating and cooling all rooms (underfloor and fan coolers) with irrigation system and PVC joinery with aluminum shutters. The roof is also new. The pool is top notch and with a lot of additional equipment. The garden is carefully arranged and nurtured with mostly Mediterranean plants. For parking there is a spacious garage for 2 cars and there are parking options for 2 more in the covered part of the house.
The house offers superior comfort in beautiful surroundings and is suitable for rent at large weekly rental rates.
Property specifics
✓clear title
✓new building:
✓recently renovated:
✓furnished (equipped):
Number of floors/levels
✓number of floors/levels in the building: 2
Areas and facilities
✓garden / yard
✓swimming pool
✓outdoor parking lot (number of spaces): 2
✓garage parking (number of spaces): 2
Equipment and fixtures
✓video surveillance
✓air-conditioning
✓PVC joinery
✓aluminum joinery
✓barbecue grill
Infrastructure
✓electricity
✓public water supply
✓drainage (public sewer)
✓solar heating
Access to the property by
Location characteristics
✓town center
✓close to the beach